Course Ratings & Reviews
In an effort to continuously improve the quality of our courses, Procenius requests feedback from class attendees to ensure courses are continuously updated and improved to maintain an enriching learning experience.
Instructor and Course Evaluation Results
Clients have rated our instructors and courses for each of the following questions.
 Average Instructor & Course Ratings (Rating system:  5=Excellent ... 1=Poor)
The instructor is knowledgeable about the subject matter - 4.9
The content was presented in a clear and understandable way - 4.8 
The instructor adequately answered the classes questions - 4.8
The instructor was adequately prepared for the presentation - 4.9
Effective teaching strategies and methods were used - 4.8
The instructor was effective in engaging the class - 4.9
Class exercises, workshops & content were relevant to your needs - 4.7
The course was well organized- 4.8
99% of training attendees would recommend Procenius's courses to their colleagues.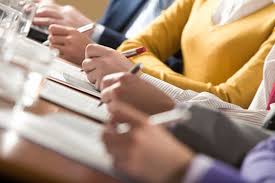 Feedback From Training Attendees
"I thought this was a fantastic course - Our objective was too level set the knowledge of devices. The instructor did an awesome job with managing the wide variety of knowledge basis - Excellent!"
"The course material and presentation exceeded our expectations."
"Very well taught. Very engaging, especially for a fairly dry subject. I liked that our product specific examples were used."
"The instructor was very engaging and customized it to our industry. I came to the class thinking this training wasn't relevant to me, but I actually learned a lot. Great instructor and materials!!"
"Excellent presentation; Strong knowledge demonstrated and pleasant interaction with/between class and instructor. Excellent material supplied.
"The instructor provided a real "hands on" program that are immediately applicable. He truly is a subject matter expert"
"The instructor was great! Hope he can come back for additional training."
"Thank you for the examples and suggestions, I appreciated the time to discusses the "fixes" which was greatly needed. Great Course!"
"Dynamic pace - relevant discussions - great prep - not a canned course."
"Well versed and had hands on experience; Able to explain to the 'every man' level."
"Instructor is a good communicator and is able to provide detail explanation on each topic."
"The course material was appropriately related to the phases of design control; I appreciated the instructor's candor when answering questions about our company's current practices."
"Very thorough - I particularly liked the group exercises; Thanks so much, your presentation was dynamic and engaging"
"Instructor was helpful, engaging, conversational and answered questions."
"Very relevant to our companies current direction and processes.; The instructor did an excellent job."
"Covered items not covered in previous taken courses on the same subject."
"The course was well organized, the material taught in an engaging way."
"Content was simplified to help all levels of familiarity; The instructor presented well and very clearly."
"I really learned a lot. I appreciate using our company documents examples."
"I liked the group presentation; Great Job!"
"Explained process in layman terms, very knowledge."
"Great format, typical design control training focuses only on the regulation. I appreciated the "consulting" type of approach that was tailored to our process."
"The instructor was very organized, gave great/relevant examples, ensured questions were answered, and did a great job with presenting the materials - Great Job!"
"Great job presenting! The pace and organization of the course were good. In addition, the instructor did a good job of keeping the room engaged on a topic that is terribly boring."
"Course was straight forward, well paced, informative and enlightening."
"I enjoyed the practical application and exercises that allowed us to practice how to perform the tasks in a "real world" scenario. It was very thorough and covered all aspects of Design Control."
"Very thorough - I liked the ability to be able to discuss our specific examples, Plenty of times for questions."
"I liked that the instructor used our products in all the examples and tailored the course to our specific needs, industry and products."
"The examples from our products made us think about our design control and risk management processes and what gaps exist."
"Risk management is a dry topic, the instructor did a good job making it exciting and interesting."
"The instructor was an engaging presenter and the breakout sessions gave us an opportunity to apply our learnings. Thanks for helping us out, great job!"
"Great book of slides, extremely well organized. Workshops and team exercises are effective learning tools, great to link to real examples."
I felt that this was an incredibly useful and well organized course. I appreciate that the instructor took the time to walk through our product specific examples and to allow us to dig into issues where our learnings might apply to our organization."
"The instructor's enthusiasm makes the class much better considering it is a dry topic."
"The examples are great. Instructor hands on knowledge is great."
"It was very comprehensive and covered a great deal of material in a short amount of time."
"The instructor was extremely engaging and kept conversations very interactive with the entire group."
"The instructor allowed more than enough time for participation and engagement with the class."